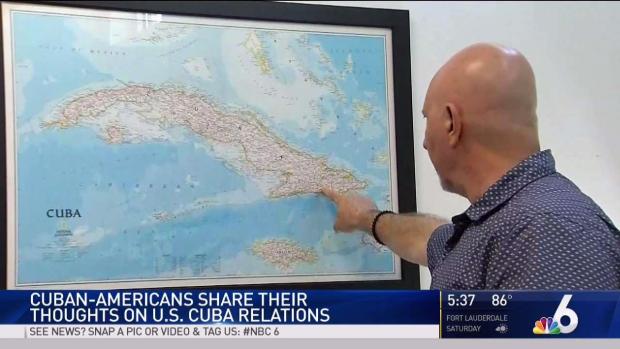 The Trump administration has been Gung-Ho about rolling back every single one of former President Obama's policies to the joy of Republicans who obstructed the former commander-in-chief through both of his terms.
The White House insists that its new approach toward Cuba won't target the country's citizens, but instead, aims to prevent funding to oppressive elements of the country's government. It argues that the government carries out human rights abuses, though many policy experts believe the new regulations will not improve human rights in Cuba.
However, Trump will stop short of closing embassies or breaking diplomatic relations restored in 2015 after more than five decades of hostility and will not cut off recently resumed direct U.S. -Cuba commercial flights - though his more restrictive policy seems certain to dampen new economic ties.
U.S. President Donald Trump is expected to announce a rollback of measures implemented by Barack Obama in the countries ties with its neighbor Cuba on Friday. The policy calls on Americans traveling to Cuba to use "private businesses and services provided by the Cuban people, rather than businesses and services provided by". The embargo remains in place and unchanged by Trump's policy.
Trump will issue a presidential memorandum when he delivers his speech at the Manuel Artime Theater in Miami's Little Havana district, the heart of America's Cuban-American and Cuban exile community.
Educational trips will reportedly be required to travel with a guide from a USA sponsoring organization, according to the Herald.
Senator Marco Rubio (R:FL) played a Key role in pushing for the changes, and will attend the event along with US Representative Mario Diaz-Balart and other Cuban-American lawmakers.
"Obama incentivized entrepreneurship", Castillo said.
The son of a Cuban immigrant, Rubio opposed Obama's re-engagement with Cuba, saying Obama was making concessions to an "odious regime".
Even with carve outs, the new policy could pose problems for some U.S. businesses, including hoteliers and airlines who have put on regular flights between the USA and the Cuban capital.
Rubio said Thursday that Trump's announcement will mark "a good day for the Cuban people, a better deal for the Cuban people, which is who we're trying to help here, by empowering them and doing so in a way that does not empower their oppressors".
The White House arrived at its new policy after consulting with Congress and numerous Cabinet secretaries, and concerns for human rights were a major factor. The Trump administration started a Cuban policy review in February, which included several cabinet agencies that will develop regulations to enforce the White House's Cuba policy. An expert on Cuban travel told Politico that roughly 60 percent of all businesses in Cuba and 80 percent of all hotels on the island are run by the business arm of the country's military, meaning that even if you can find an exemption for traveling to Cuba, you might not be able to find anywhere to stay.