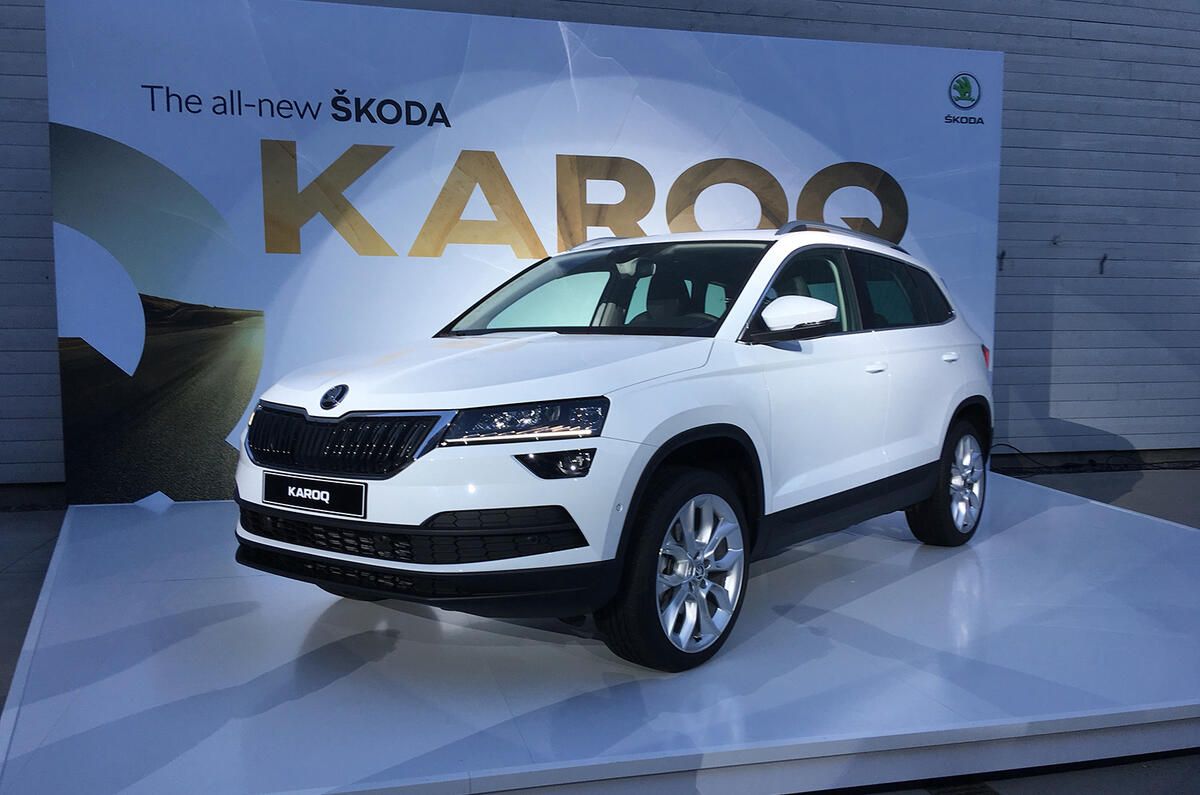 The Czech carmaker is quick to point out that the Karoq is not a replacement for the similarly sized Yeti, but instead a smaller version of its soon-to-be-released seven-seat Kodiaq.
Based on Volkswagen's ubiquitous MQB platform, the Karoq's comparatively long wheelbase and short overhangs should not only aid interior accommodation, but also go some way to maintaining the entertaining driving experience that made the Yeti so interesting against core rivals.
The entry-level diesel is a 1.6-litre motor, producing 114bhp and 250Nm of torque, and emitting 118g/km of CO2.
From the images it is evident that Skoda has tried to replicate the same design theme in the cabin as seen in the Kodiaq making the interior feel upmarket and premium. The displacements of the engines range from 1.0-litre to 2.0-litre, while the power outputs are in the range of 113 BHP to 188 BHP. The displacement ranges are 1.0, 1.5, 1.6 and 2.0 l. Commentators say it is a sign that the Volkswagen's Group's deepening need to cut costs and save money in wake of the dieselgate emissions scandal is ending Skoda's independence. For the 4WD versions, there would be an additional off-road mode with an electronic diff lock and traction control.
Instead, the first model grade set to be sold locally will be the 110TSI with its 1.4-litre turbo-petrol and FWD or AWD options, while an 110TDI oil-burner is also anticipated to make it into showrooms. Inside, Skoda assures us, the five-seat Karoq will provide exceptional space for passengers and luggage. If they are folded down, the boot capacity increases to 1,630 litres.
With the fixed rear seats, boot space is rated at 521 litres (11 more than the Ateca) and can be expanded to 1630 litres. The seats can also be completely removed resulting in a loading capacity of 1,810 litres.
There are four infotainment options.
On the inside, the Karoq will feature a fully customisable HUD and Full-LED headlights with clear lens optics which will be available in the ambient trim onwards.
There's a choice of four infotainment systems, with the most basic Swing system coming with a 6.5-inch touchscreen, two USB slots and four audio speakers. It also has the option of an LTE module that brings faster internet for the hotspot, and introduces gesture control to a Skoda for the first time. It offers a range of layouts created to prioritise driving data or a range of additional information, including navigation instructions, a gear indicator or traffic sign information.
Speaking to our sister publication, Auto Express, Skoda's CEO Bernhard Maier said it expected to sell far more Karoqs than it did Yetis, a vehicle which found roughly 100,000 homes a year.
Driver assistance systems include Park Assist, Lane Assist, Traffic Jam Assist, Blind Spot Detect, Front Assist with predictive pedestrian protection and Emergency Assist.
The Skoda Karoq has been globally unveiled in an event at the Artipelag museum near Stockholm, Sweden. Let us know in the comments section below.