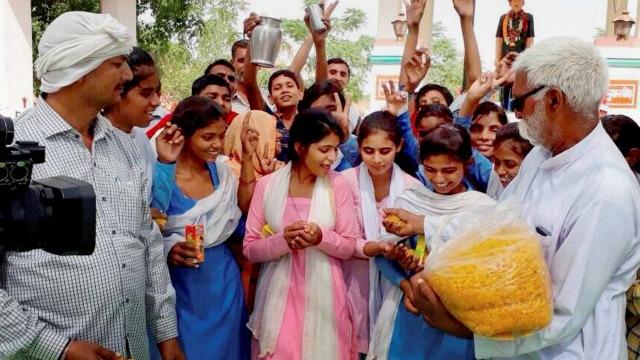 Relentlessly continuing their hunger strike for seven days, girl students of Rewari district in Haryana called off their protest on Wednesday, after the Haryana government yielded to their demand and announced upgradation of the village Government High School upto senior secondary level.
Reciting their ordeals, one of the protester said, "We fear harassment and molestation by youths of other villages and hence, we are demanding up gradation of our school up to Class XII". "SNE will be conveyed in due course", read a notification issued by the Additional Chief Secretary, School Education.
Initially, the government was not ready to upgrade the school because a minimum number of 150 students is required for the senior secondary upgrade, and Dahina village had less than 90 students.
Thirteen girls from the village had gone on an indefinite hunger strike demanding that their village school be upgraded to the senior secondary level.
Despite temperature shooting up to 42 degrees, the 13 girls who had been on hunger strike since eight days remained unfazed even as up to five of them were repeatedly hospitalized for dehydration.
While interacting with mediapersons, Sharma said the Principal has been deputed and the admission process will commence from May 18.
The eve-teasing allegation by the girls that put the government in a tight spot flies on the face of the Haryana police chief BS Sandhu who has been claiming that effective steps have been taken to deal with "eve-teasing" cases in the state under the much-touted "Operation Durga".
On Wednesday, they ended the hunger strike when the village sarpanch Suresh Chauhan was handed a notification by the district administration.
"Private schools have just 20 to 30 students enrolled in Class 11 and 12, how come they fulfil the criteria and our school doesn't", Shewta Devi, mother of a schoolgirl said.
According to the officials, from now onwards, the girls would be able to study Class 11 and 12 at their village school. They teased us and made it tough to go to school.
India Today provided the girls, studying in class IX and X in Gothda Tappa Dahina village in Rewari a platform to make their voices be heard.
Haryana is state with the lowest child sec ration and in recent times has also witnessed some horrific crimes against the women.