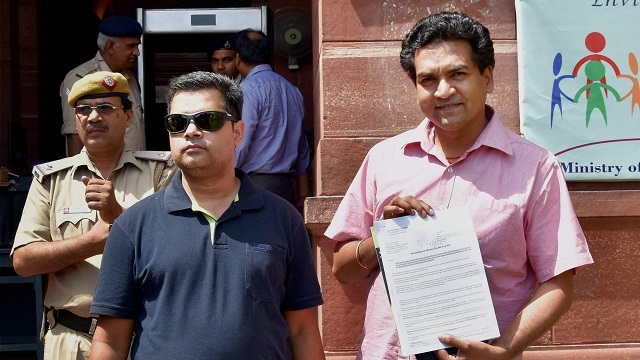 The infectious infighting within the Aam Aadmi Party (AAP) shows no sign of slowing down as Health Minister Satyendar Jain on Friday filed a criminal defamation case against sacked minister Kapil Mishra. "And then this person goes on to donate Rs 2 crore to AAP", he said. The sacked minister said Mukesh's claims were being made under the guidance of Kejriwal to hide the identity of a Hem Prakash Sharma, whose name has surfaced from the MCA website. He showed a powerpoint presentation in a press conference as "evidence" to back his claim that the party received funds from shell companies.
Mishra alleged that Mukesh Kumar became CEO of one of the companies days before the Delhi civic polls, though the donations were made in 2014.
Mishra also presented "evidence" to prove that the party received the money through "hawala network". Kejriwal had retweeted a video of Delhi businessman Mukesh Kumar telling a news channel that he made the donation (Rs 50 lakh through each of his four companies) since he was drawn towards the policies of the AAP. It has been one week, but no one from the AAP has come up with any clarification. "Even the letter heads were fake".
He had also claimed that several shell companies had given money to the AAP and the party knew it. Kejriwal's private secretary Bibhav Kumar too was questioned by the ACB in connection with the "scam" on Thursday. Aam Aadmi Party gets fund from Hawala operators. "Kejriwal will have to leave the country the day party leaders' foreign trips come to light", he continued in a strained vein.
The sacked minister asked the Chief Minister to step down to ensure a fair probe into the allegations.
He claimed Kejriwal and Sisodia were aware of the "corruption activities".
The sacked minister said that Hem Prakash Sharma was also Director in a company alongwith lawyer Rohit Tandon, who was arrested by the Enforcement Directorate in December a year ago for converting black money into white.
"This is the reason why Kejriwal was shouting so much after the government's demonetisation move and was coming out on the streets against it".
Targeting Kejriwal again, Mishra said that he now challenges the Delhi CM to write to the income tax officials telling him where the Rs 2 cr came from.