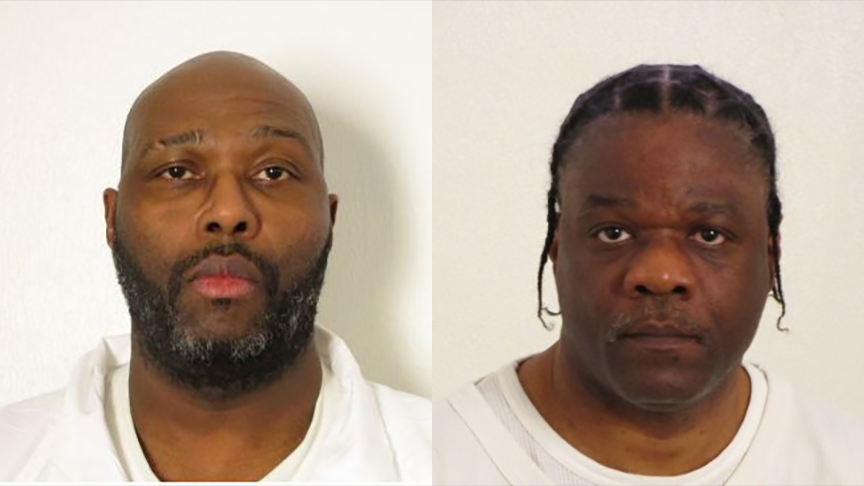 While the latest court rulings could be overturned, Arkansas now faces an uphill battle to execute any inmates before the end of April, when one of its lethal injection drugs expires.
One of the inmates set to die Thursday, Stacey Johnson, says advanced DNA techniques could show that he didn't kill Carol Heath, a 25-year-old mother of two, in 1993 at her DeQueen apartment.
In a separate action on Tuesday, lawyers for all eight inmates filed a petition with the U.S. Supreme Court to halt all the executions on issues including drug protocols and access to counsel.
A spokesman for Arkansas Attorney General Leslie Rutledge said the state is reviewing its options regarding Johnson's case. One of the eight executions was stayed after judge listened to the parole board's suggestion of upholding the man's life sentence.
The Washington Post reported that Arkansas officials support their decision to squeeze eight executions into a tight schedule, saying delaying the deaths would deny justice for the victims' loved ones.
But the state is pressing ahead with its efforts to put the men to death in back-to-back lethal injections Thursday night at its Cummins Unit in the town of Grady, about 75 miles southeast of Little Rock. The groups accused her of being close to trial attorneys and for the court's decision to strike down Arkansas' voter ID law.
Ledell Lee and Stacey Johnson were to be put to death Thursday night, but Johnson's execution was at least temporarily halted and Arkansas' ability to use one of its execution drugs was called into question. Pfizer's announcement paved the way for massive obstacles from states seeking drugs for executions.
Two of the inmates scheduled to die this month - Jack Jones and Kenneth Williams are trying to raise a legal challenge as to whether the sedative Midazolam could present a risk of cruel and unusual punishment in violation of the U.S. Constitution. The companies, pressuring Arkansas to return the medications to be used in the lethal injections, recognize the public-relations implications of using their drugs on death row.
Another case that could trip up Arkansas' plan was filed Tuesday by the medical supplier McKesson Corp., which says it sold the drug vecuronium bromide to the Arkansas Department of Correction for inmate medical care, not executions. So "the effect, no matter how you word it, is to stay the executions", and circuit courts in Arkansas have no authority to do so, he said. The state did ask the U.S. Supreme Court to lift a stay granted to Davis, but the high court's last-minute refusal ensured he would not enter the death chamber Monday.
The Department of Correction had planned an earlier pair of executions Monday and similarly moved condemned inmate Don Davis to the Cummins Unit over the weekend.
In the drug case, a state prison official testified that he deliberately ordered the drug previous year in a way that there wouldn't be a paper trail, relying on phone calls and text messages. He said he didn't keep records of the texts, but a McKesson representative did.
Two inmates are scheduled for execution Thursday night with three more executions planned for next week.
If Gray's ruling is vacated by the Arkansas Supreme Court or the state obtains a different supply of vecuronium bromide, the executions of four other inmates who have not received individual stays could potentially go forward. The average time between sentencing and execution for prisoners executed in 2013 topped 15 years, according to the federal Bureau of Justice Statistics.