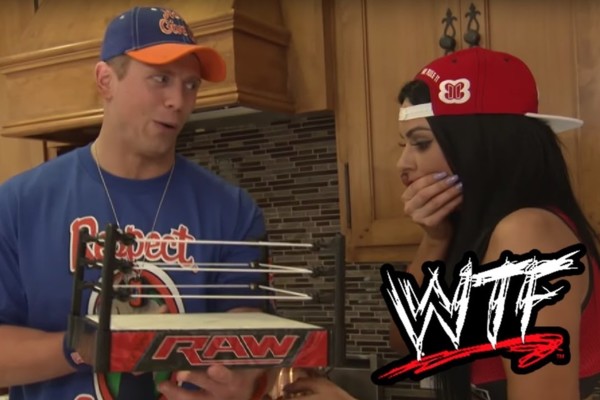 However, still majority of fans filing in were families with kids. Can't get into Brock vs. Goldberg, I'm probably in the minority with that though, maybe? I saw the finish of Sin Cara and Gentleman Jack Gallagher defeating Noam Dar and Ariya Daivari.
Backstage, Mick Foley takes one last walk through the back. The heat on Stephanie was Dixie Carter in NYC-level. Ending felt a bit stale, I was thinking more about what WWE is going to do with Strowman (hopefully interfering at WrestleMania and not winning the Andre Battle Royal) than whatever was going on between Taker and Reigns.
As expected there was support for Foley with Sami Zayn entering the fray to speak out only to find himself thrust into unexpected action after McMahon took exception to Zayn's comments. Samoa Joe hit the scene to set up a match between the two. Whether it's Strowman, Joe, or facing Seth Rollins for a spot in the Royal Rumble, Zayn has been upper mid-card gold for the red brand.
Foley, the wrestling star formerly known as "Mankind" and "Cactus Jack", sparked controversy last week when Raw commissioner Stephanie McMahon told him to fire a member of his roster.
- Charlotte Flair vs. Dana Brooke - Charlotte flattens Dana with a boot to the face off the ropes and gets the pin.
- Charlotte def. Dana Brooke: We open up with a replay of Dana turning on Charlotte last week. Absolute silence when she came out.
This is short and harmless, and Charlotte wins.
Bayley guilt trips Stephanie for being evil.
Bayley questions Stephanie's actions so she makes Nia Jax vs. Bayley for later tonight.
The Highlight Reel Time! You know you want it.
This week on Raw, Chris Jericho exposed the "real" Kevin Owens on the Highlight Reel and when Jericho tried to add Owens to the List of Jericho, Kevin surprised him with a beatdown. Segment of the night!
Brian Kendrick – Technically, I could give this to TJ Perkins, who lost in amazingly quick fashion this week, but that post-match promo by Kendrick was something terrible.
Post match Kendrick talks about Akira Tozawa not being in the country and pulls out Tozawa's passport.
The RAW tag team championship match will remain a triple threat with Luke Gallows & Karl Anderson defending against the teams of Enzo Amore & Big Cass and Sheamus & Cesaro. Socko into her husband Triple H's mouth.
- Nia Jax is backstage walking towards the entrance ramp for her No DQ match against Bayley.
WE WANT PAIGE! Sorry just thought I'd get you used to those tonight as the NY crowd is going to let you know about it all night long. The match devolved quickly with Anderson & Gallows attacking their partners, Enzo and Cass. "We want Paige", "We Are Awesome" chants as well as a small wave starting. It's chair time but Bayley baseball slides it into her face.
Next is Triple H's response to Rollins not being cleared- Good work overcoming a crowd that wanted to take over this segment.
More CM Punk chants. Then he railed on the fans for what they have done to Mick Foley and what they are doing to Seth. Having received the Rollins update on his knee injury Triple H spoke to Michael Cole, handing out an ultimatum that includes terms for a non-sanctioned match-up. Great pop and response to their shtick.
Austin Aries beat Tony Nese in a good Cruiserweight match.
Aries and "King of the Cruiserweights" Neville exchange words after the match.
Emma Coming Soon- yeah right! And there's something I've been wanting to say for a very long time. Kids cheering him while the kids' fathers boo the hell out of him. They have to win to stay in the match.
This is much slower paced than their Fastlane match. Luckily for them, their opponents don't get along. Lights back on, Taker is between Roman and BRAUN.
In the closing stages of the match, as Reigns looks for the spear - GONG. Joe's big kneedrop gets two and the powerslam gets the same as Corey sums up Joe in a single line: "Beating will continue until morality improves". Raw is a hassle to get through from home and its pretty tough live.
Stephanie isn't happy that Sheamus and Cesaro are getting along like peas and carrots (Sheamus is the carrot), and for hugging Foley.