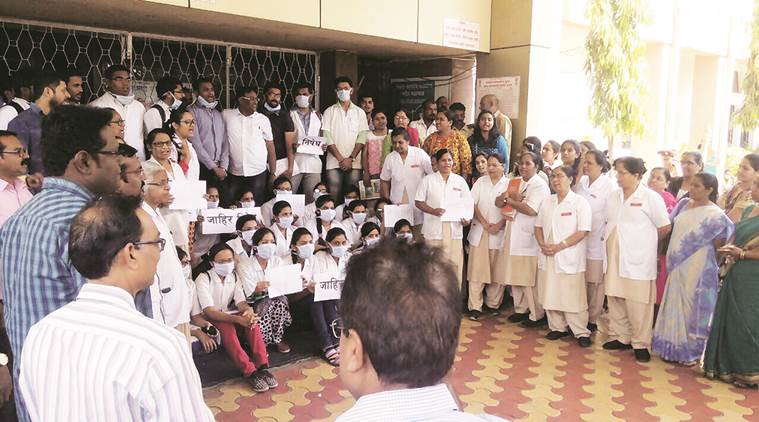 Mayor Vishwanath Mahadeshwar has urged resident doctors to call off their strike as soon as possible failing which action will be taken against them. He added that the Director General of Police had assured of 400 extra armed policemen being deployed in various hospitals across the city to stop attacks on doctors. Their anger was triggered when the nurse informed them that the patient - who was before this treated in a private hospital but was brought to the Nashik civil hospital only after his condition worsened there - had died. As a result, the doctors cannot go on strike officially.
Resident doctors in Mumbai and across the state are on mass leave on Monday to protest against series of assaults on doctors in government hospitals. "It looks like we will have to return next week", he said. Meanwhile, the hospital's gates have been shut and there is heavy police presence in the area. The first will be to promise more security, so patients' kin are deterred from attacking doctors.
"Yesterday two police personnel were posted at the hospital but today no personnel was found". "We were not aware of the strike". As per a report published by The Indian Express, Bombay High Court has asked doctors in state not to go on strike unitil the "grievance cell" that has being constituted by the government to look into their problems submits its report.
"It is hard to render patient care services in current situation where the front line resident doctors are the butt of constant abuse and attacks", Praveen Gaikwad, a postgraduate student of medicine, said. In contrast to the hospitals' claims about the availability of staff, patients and their relatives had a harrowing time on Monday getting the required care.
Suraj Sonawane, a postgraduate student of radiology, said, "Urgent steps need to be initiated to beef up security at government-run medical colleges attached hospitals". It may be recalled that one of the incidents of doctors being attacked occurred in Dhule, whereas the other occurred in a hospital in Sion, Mumbai.