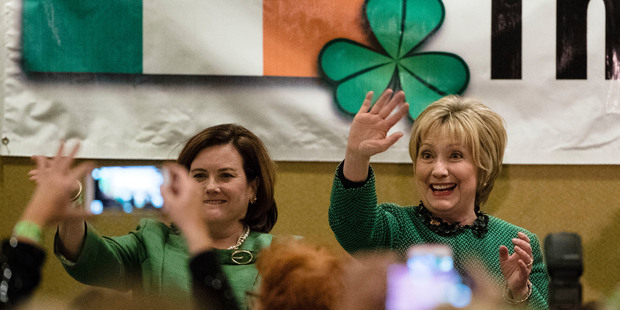 Speaking to a friendly audience from her father's hometown, Clinton made clear she understands the temptation to stay away from the spotlight. But it appears that Clinton's got a little more pep in her step lately.
Clinton made reference to her time in "the woods" on a number of occasions throughout her speech, apparently alluding to images captured of the election candidate hiking in the woods the day after her defeat.
But now, according to the woman herself, she's moving back into the public eye: Clinton is ready to "come out of the woods," hinting at a return to public life for the 70-year-old former Secretary of State. Clinton's reference to coming "out of the woods" appeared to be a reference to the viral photo of the former presidential candidate hiking near her home in NY shortly after the election.
Video footage of Clinton's speech shows that the politician, wife, and mother has seemingly taken on a more relaxed demeanor these days, regaining her traditional sense of humor and using it to comment on current events.
"I'm not sure it will come out of Washington yet, but I think it can come out of Scranton". Specifically, she said that she plans to "shine a light" on some of the concerns she has while watching the news nowadays.
Watching the news may be hard for all of us, but strong women can accomplish huge things when they put their minds to it.
Clinton is already scheduled to make several public appearances in the coming months, including giving the commencement address at her alma matter, Wellesley College, on May 26. Having a good sense of humor and raw ability to speak honestly is a great start.